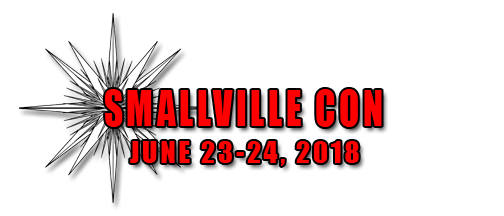 Contact
Volunteers
Want to help out at this year's Smallville ComicCon?
Deadline: Information and Application coming soon!
Eligibility: Applicants must be 18 years of age and clear a background check. No volunteer will be selected without an application or a background check. Incomplete or illegible applications will not be considered.
Selection: We are looking for energetic, hardworking, trustworthy individuals. There are a limited number of volunteer positions available which will be assigned based upon qualifications needed at the sole discretion of the Smallville ComicCon promoter. Follow-up interviews may be conducted at the discretion of the promoter. Notification of selection will be provided by email no later than May 13, 2015. Artistic Consultants and Smallville ComicCon reserves the right to reject volunteers for any reason.
Expectations: Volunteers will be provided a single general entry pass for the day(s) they are scheduled to work. Volunteer passes may not be sold, loaned, or transferred. Volunteer passes do not permit restricted access, guaranteed seating, or access to event guests. Volunteers will be provided with an official Volunteer shirt which must be worn during the period of assignment.