Thank you to everyone who made the 2nd Annual Smallville ComicCon a success. We look forward to seeing you in 2016!
Announcements
6/13/15 Pre-orders
Pre-orders for Advance 2 day passes and T-shirts have ended. All regular 2 Day passes and Single tickets along with a limited number of Smallville ComicCon T-Shirts will be available on site June 20-21.
6/9/15 Schedule
The Schedule of Events is now available on the About page!
6/8/15 Advance Passes
The last day to purchase your advance discount passes online is June 12th! Single day and 2-day tickets will be full price at the door!

Advance Passes
5/30/15 Give Aways
Our thanks to MeTV/KAKE TV for these Agents of Shield and Once Upon a Time items that we will give away June 20-21!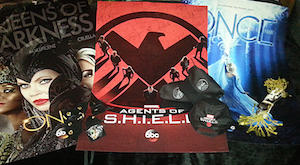 4/23/15 Cancellation
We are so sorry to have to inform you that Paul Kupperberg must cancel his appearance at the Smallville Comic-Con this year due to scheduling conflicts, but we hope to have him attend next year.
4/12/15 T-Shirts
Official Smallville ComicCon 2015 T-Shirts are available! Order now to ensure your size!

Official T-Shirts
4/11/15 Find Us at Hastings
Smallville ComicCon representatives will be at Hastings in Hutchinson selling event Tickets in person! Join us April 18th at 3pm, May 2nd (Free Comic Day) at 9am, May 4th at 6pm, and May 9th at 3pm. Hastings is located at 416 E. 30th Ave, Hutchinson, KS. Follow us on Facebook for more information!
3/26/15 Cancellation
We are so sorry to have to inform you that Kelly Hu must cancel her appearance at the Smallville Comic-Con this year. She just booked a film that shoots in Russia and therefore makes her unavailable for our event. Unfortunately this happens and we hope to have Kelly join us in future years at the show and wish her the best of luck on the new movie.
3/2/15 Podcast
Wil Wheaton mentioned Smallville ComicCon while he was a guest on the Girl On Guy with Aisha Tyler Podcast. Check it out around the 15 minute mark!
3/2/15 Podcast
Listen to two of Smallville ComicCon's previous 2014 guests, Alaina Huffman and Phil Morris, discuss Conventions on Phil's Living the Dream Podcast. www.livingthedreamshow.com/episode-6-alaina-huffman
2/15/15 Cancellation
It is with heavy regret we must announce award winning American comic book writer Marv Wolfman is unable to appear at the 2015 Smallville ComicCon due to an unfortunate accident which resulted in a broken hip. The Smallville ComicCon family and fans have Mr. Wolfman in our thoughts at this time and wish him a full and speedy recovery. Mr. Wolfman is rescheduled to appear at our 2016 event.